IDENTIFICANDO CLÚSTERS CULTURALES EN EL CENTRO DE MONTERREY. UN ANÁLISIS DE CASO
Palabras clave:
regeneración urbana, mapeo cultural, cluster cultural, centro
Resumen
El uso de la cultura como herramienta y medio de regeneración urbana no es reciente, desde hace ya varias décadas, se ha utilizado para dirigir la revitalización de centros urbanos y barrios degradados. Si bien, existen una gran cantidad de estudios que investigan el fenómeno, hace falta ampliar el debate hacia la etapa del diagnóstico, específicamente hacia el concepto del mapeo cultural como herramienta de análisis. Tomando como caso de estudio el centro de Monterrey, el artículo examina las manifestaciones de cultura en el territorio a partir de la identificación de recursos culturales en el tejido urbano. Se utiliza un método mixto que conjunta datos cuantitativos con métodos cualitativos de análisis como valoraciones de actores clave, observación directa e investigación documental. Los resultados muestran que el centro cuenta con un rico tejido cultural dentro de su trama urbana, el cual debido a la proximidad entre unos y otros permite identificar un clúster cultural en donde suceden dinámicas distintas al resto del territorio. Esta investigación contribuye en mostrar alternativas sobre como analizar la cultura en la geografía urbana. En específico, el trabajo contribuye en el uso y entendimiento de la técnica de mapeo cultural como herramienta de diagnosis e instrumento de análisis socio-urbano en un contexto latinoamericano.
Descargas
Los datos de descargas todavía no están disponibles.
Citas
Aliyah, Istijabatul; Setioko, Bambang y Pradoto, Wisnu (2017). Spatial flexibility in cultural mapping of traditional market areas in Surakarta (A case study of Pasar Gede in Surakata). City, Culture and Society, 10, 41-51. https://doi.org/10.1016/j.ccs.2017.05.004>
Axelsson, Robert; Angelstam, P., Degerman, E., Teitelbaum, S., Andersson, K., Elbakidze, M., y Drotz, M.K. (2013). Social and Cultural Sustainability: Criteria, Indicators, Verifier Variables for Measurement and Maps of Visualization to Support Planning. AMBIO 42(2), 215-228.
Bianchini, Franco; Parkinson, Michael (eds.) (1993). Cultural Policy and Urban Regeneration: The West European Experience. Manchester: Manchester University Press. https://doi.org/10.1080/00420989420080461>
Bianchini, Franco y Ghilardi, Lia (2007). Thinking culturally about place. Place Branding and Public Diplomacy, 3(4), 280-286. https://doi.org/10.1057/palgrave.pb.6000077>
Blessi, Giorgio Tavano; Tremblay, Diane-Gabrielle; Sandri, Marco; Pilati, Thomas (2012). New trajectories in urban regeneration processes: Cultural capital as source of human and social capital accumulation-Evidence from the case of Tohu in Montreal. Cities, 29(6), 397-407. https://doi.org/10.1016/j.cities.2011.12.001>
Chiesi, Leonardo y Costa, Paolo. (2015). One Strategy, Many Purposes: A Classification for Cultural Mapping Projects. In Cultural Mapping as cultural inquiry, (pp. 87-103). Routledge.
Contreras Gatica, Yasna (2011). La recuperación urbana y residencial del centro de Santiago: Nuevos habitantes, cambios socioespaciales significativos. Eure (Santiago), 37(112), 89-113. http://dx.doi.org/10.4067/S0250-71612011000300005>
Crawhall, Nigel (2007). The role of participatory cultural mapping in promoting intercultural dialogue- 'We are not hyenas'. Concept paper prepared for UNESCO Division of Cultural Policies and Intercultural Dialogues.
Cuachi-Santoro, Roberta (2016). Mapping community identity: Safeguarding the memories of a city's downtown core. City, Culture and Society, 7(1), 43-54.
Chapin, F. Stuart y Knapp, Corrine N. (2015). Sense of place: A process for identifying and negotiating potentially contested visions of sustainability. Environmental Science & Policy, 53, 38-46.
Daniel, Terry C.; Muhar, Andreas; Arnberger, Arne; Aznar, Olivier; Boyd, W. James; Chan, Kai M. A.; Elmqvist, Thomas; Flint, G. Courtney; Gobster, H. Paul; Grêt-Regamey, Adrienne; Lave, Rebecca; Muhar, Susanne; Penker, Marianne; Ribe G. Robert; Schauppenlehner, Thomas; Sikor, Thomas; Soloviy, Ihor; Spierenburg, Marja; Taczanowska, Karolina; Tam, Jordan y Von der Dunk, Andreas (2012). Contributions of cultural services to the ecosystem services agenda. Proceedings of the National Academy of Sciences, 109(23), 8812-8819.
Degen, Mónica y García, Marisol. (2012). The transformation of the 'Barcelona model': an analysis of culture, urban regeneration and governance. International journal of urban and regional research, 36(5), 1022-1038. <https://doi.org/10.1111/j.1468-2427.2012.01152.x>.
Dinardi, Cecilia (2015). Unsettling the role of culture as panacea: The politics of culture-led urban regeneration in Buenos Aires. City, Culture and Society, 6(2), 9-18. <https://doi.org/10.1016/j.ccs.2015.03.003>.
Duque Franco, Isabel (2015). La cultura como estrategia de transformación y promoción urbana en Bogotá y Medellín. Revista de Geografía Norte Grande, (61), 25-43. <http://dx.doi.org/10.4067/S0718-34022015000200003>.
Duxbury, Nancy. (2014). Cultural governance in sustainable cities.
Duxbury, Nancy; Hosagrahar, Jyoti y Pascual, Jordi (2016). Why must culture be at the heart of sustainable urban development? Agenda 21 for Culture.
Evans, Graeme y Shaw, Phyllida (2004). The contribution of culture to regeneration in the UK: a review of evidence. London: DCMS, 4.
Evans, Graeme (2005). Measure for measure: Evaluating the evidence of culture's contribution to regeneration. Urban Studies, 42(5-6), 959-983. .
Freitas, Raquel (2016). Cultural mapping as a development tool. City, Culture and Society 7 (1), 9-16.
García, Beatriz (2004). Cultural policy and urban regeneration in Western European cities: lessons from experience, prospects for the future. Local economy, 19(4), 312-326. .
Garza-Rodríguez, Fabiola (2015). Evaluación de indicadores socio-urbanos y estrategias de reforma para el centro de Monterrey. VII Seminario Internacional de Investigación en Urbanismoo, Barcelona-Montevideo, junio 2015. Departament d'Urbansime i Ordenació del Territori. Universitat Politècnica de Catalunya.
Hawkes, Jon (2001). The fourth pillar of sustainability: culture's essential role in public planning. Common Ground Publishing Pty Ltd in association with the Cultural Development Network (Vic).
Jeannotte, M. Sharon (2016). Story-telling about place: Engaging citizens in cultural mapping. City, Culture and Society, 7(1), 35-41
Kurjenoja, Anne Kristiina y Simental, María Emilia Ismael (2015). Ciudad como imagen: Xanenetla, Puebla, México, la "Ciudad Mural". Revista Internacional de Ciencias Humanas, 4(2).
Lazarević, Eva Vaništa; Koružnjak, Arch Boris y Devetaković, Mirjana (2016). Culture design-led regeneration as a tool used to regenerate deprived areas. Belgrade—The Savamala quarter; reflections on an unplanned cultural zone. Energy and Buildings, 115, 3-10. <http://dx.doi.org/10.1016/j.enbuild.2015.03.015>.
Landry, Charles y Bianchini, Franco (1995). The creative city. Londres: Demos. En http://www.demos.co.uk/files/thecreativecity.pdf
Landry, Charles (2003). Imagination and regeneration: Cultural policy and the future of cities. Cultural Policy and Action Department, Directorate General IV, Council of Europe.
Longley, Alys y Duxbury, Nancy (2016). Introduction: Mapping cultural intangibles. City, Culture and Society , 1 (7), 1-7. < https://doi.org/10.1016/j.ccs.2015.12.006>
Martí-Costa, Marc y Pradel I Miquel, Marc (2011). The knowledge city against urban creativity? Artists' workshops and urban regeneration in Barcelona. European Urban and Regional Studies, 19(1), 92-108. .
Markusen, Ann (2007). The urban core as cultural sticky place. Time space places, 173-187.
Miles, Steven y Paddison, Ronan (2005). Introduction: The rise and rise of culture-led urban regeneration. 833-839.
Montgomery, John (2003). Cultural Quarters as Mechanisms for Urban Regeneration. Part 1: Conceptualising Cultural Quarters. Planning, Practice and Research, 18(4), 293-306. <https://doi.org/10.1080/1561426042000215614>.
Moss, Linda (2002). Sheffield's cultural industries quarter 20 years on: What can be learned from a pioneering example? International Journal of Cultural Policy, 8(2), 211-219. <https://doi.org/10.1080/1028663022000009551>
Oktay, Derya (2012). Human sustainable urbanism: In pursuit of ecological and social-cultural sustainability. Procedia-Social and Behavioral Sciences, 36, 16-27. <https://doi.org/10.1016/j.sbspro.2012.03.003>
Pillai, Janet (2013). Cultural Mapping: A Guide to Understanding Place, Community, and Continuity. Strategic Information and Research Development Centre.
Rueda, Salvador; de Cáceres, Rafael; Cuchí, Albert y Brau, Luis. (2012). El urbanismo ecológico. Agencia de Ecología Urbana de Barcelona, Barcelona.
Soini, Katriina y Birkeland, Inger (2014). Exploring the scientific discourse on cultural sustainability. Geoforum, 51, 213-223. <https://doi.org/10.1016/j.geoforum.2013.12.001>
Valdés Lange, Carlos (2018). La Arquitectura como Dispositivo de Regeneración Urbana: 20 años del Museo Guggenheim de Bilbao. Bitácora Urbano Territorial, 28(2), 115-123. <https://doi.org/10.15446/bitacora.v28n2.70153>.
Wu, W. (2005). Dynamic cities and creative clusters. Washington DC, The World Bank.
Zarlenga, I. Matías; Ulldemolins, Rius Joaquim y Morató, Rodríguez Arturo. (2016). Cultural clusters and social interaction dynamics: The case of Barcelona. European Urban and Regional Studies, 23(3), 422-440.
Zukin, Sharon (1995). The Culture of Cities. Malden, 1995.
Zukin, Sharon y Braslow, Laura (2011). The life cycle of New York's creative districts: Reflections on the unanticipated consequences of unplanned cultural zones. City, Culture and Society, 2(3), 131-140 <https://doi.org/10.1016/j.ccs.2011.06.003>.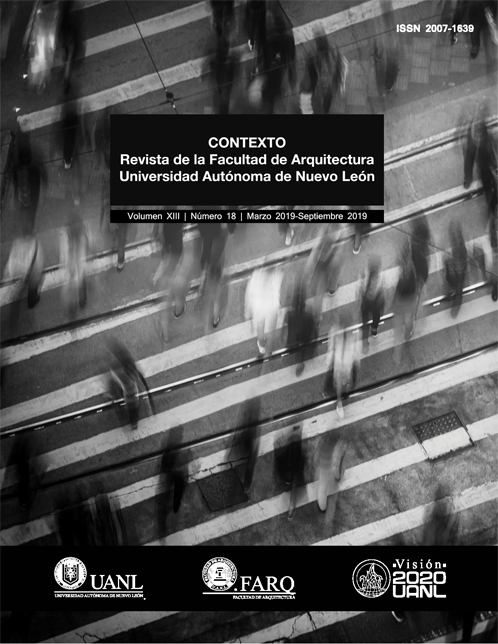 Descargas
Cómo citar
Garza-Rodríguez, F. (2019). IDENTIFICANDO CLÚSTERS CULTURALES EN EL CENTRO DE MONTERREY. UN ANÁLISIS DE CASO. CONTEXTO. Revista De La Facultad De Arquitectura De La Universidad Autónoma De Nuevo León, 13(18). https://doi.org/10.29105/contexto13.18-4
Licencia
Los autores/as que publiquen en esta revista aceptan las siguientes condiciones:
1. Los autores/as conservan los derechos de autor y ceden a la revista CONTEXTO el derecho de la primera publicación, con el trabajo registrado con la licencia de atribución de Creative Commons, que permite a terceros utilizar lo publicado siempre que mencionen la autoría del trabajo y a la primera publicación en esta revista.
2. Los autores/as pueden realizar otros acuerdos contractuales independientes y adicionales para la distribución no exclusiva de la versión del artículo publicado en esta revista (p. ej., incluirlo en un repositorio institucional o publicarlo en un libro) siempre que indiquen claramente que el trabajo se publicó por primera vez en CONTEXTO. Revista de la Facultad de Arquitectura de la Universidad Autónoma de Nuevo León.